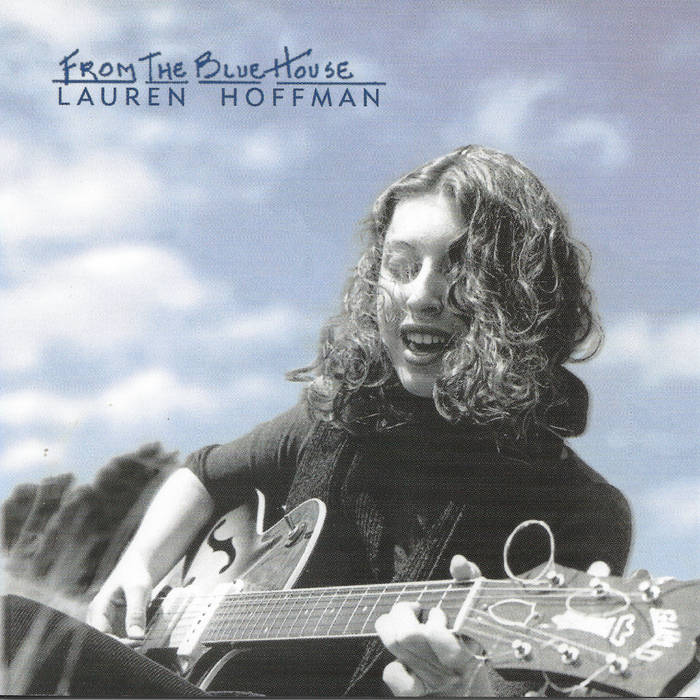 From The Blue House - CD
Heavy Scene
Bring You Down
Dust Off Your Dreams
Rare New Disease
Song For A Boy
Sister
Fortune On My Name
Whoever You Are
Sugarpie
Magic Stick
Look Like Shit
The Addict
"This collection (released after Hoffman parted ways with Virgin) swings, shuffles, and grooves without the heavy atmospherics that were so prevalent on her debut. Tracks like "Bring You Down," "Dust Off Your Dreams," and "Song for a Boy" manage to combine Hoffman's penchant for melody and groove with her strange dark lyrical slant. It is unfortunate that Hoffman will not get the necessary marketing to make her a household name with this release, but it is obvious that the artistic freedom she now has paid off in spades. A great soundtrack for a big sky."
- Chris True, AllMusic.com
FROM THE BLUE HOUSE ALBUM CREDITS
Anti-production and evil dictatorship by Lauren Hoffman, aided and abetted by Brian Kehew.
'From the Blue House' was committed to 16-track analog tape in June and July 1998 at The Blue House in Virginia, by Brian Kehew and blended to a creamy consistency by Ethan Johns in August 1998 at LAFX North Hollywood, California - except for 'Look Like Shit', which is almost entirely Lauren's fault, with a little assistance from Matthew Sherwood.
Mastered from 24-bit by Allen Tucker at Foothill Digital NYC.
All songs by Lauren Hoffman (Amrit Music BMI), except 'Whoever You are' by John D'earth/Dawn Thompson (Magic Times Music BMI).
Cover art by Jen Fariello
Handwritten lyrics and drawings by Fred Oesch
Layout and additional photos by Ken Kavanagh
~~~

Heavy Scene / Lauren - Guitar, Vocals
Scot Fitzsimmons - Bass
Johnny Hott - Drums
Lilli Hoffman - Backing vocals
Brian Kehew - Keyboard
—
Bring You Down / Lauren - Guitar, Vocals
Benjamin Jacobs - Bass
Rod Coles - Drums
—
Dust Off Your Dreams / Lauren - Guitar, Vocals
Benjamin Jacobs - Bass
Rod Coles - Drums
—
Rare New Disease / Lauren - Guitar, Vocals
Scot Fitzsimmons - Bass
Johnny Hott - Chime
—
Song For A Boy / Lauren - Guitar, Vocals
Scot Fitzsimmons - Bass
Johnny Hott - Drums
Brian Kehew - Keyboard
—
Sister / Lauren - Guitar, Vocals
Jon Brion - Bass, Hammond
Johnny Hott - Drums
—
Fortune On My Name / Lauren - Guitar, Vocals
—
Whoever You Are / Lauren- Vocals
John D'earth - Trumpet
Wells Hanley - Keyboard
Peter Spaar - Bass
Robert Jospe - Drums
—
Sugarpie / Lauren - Guitar, Vocals
Jimmy Stelling - Banjo
Scot Fitzsimmons - Bass
Drums - Johnny Hott
—
Magic Stick / Lauren - Guitar, Vocals
Scot Fitzsimmons - Bass
Johnny Hott - Drums
—
Look Like Shit / Lauren - Guitar, Vocals, Programming, etc
—
The Addict / Lauren - Guitar, Vocals, Pump Organ
—
"With big, sappy hugs and kisses to Brian Kehew, Graham Henderson, Ross Hoffman and Kathy Compton, John D-earth and everyone who played on the album, Ethan Johns, Ken Pederson, Jen Fariello, Ian Blackaby, Mojo Digital, Lydia Condor, Fred Oesch, WNRN, Lilli, Peter, Gary, Bunny and George, Jill Sobule, David Lowery and John Morand, Velena Vego, Yves, Emilie, mom, Blasco, all my e-mail friends and the fans who wrote to me and let me know that someone really is listening."
-
© Lauren Hoffman/Amrit Music Rights Reserved